Component, equipment and system specialist, Hudaco company Powermite, leads the southern African market in the supply of a fully comprehensive range of high quality, locally manufactured electrical products for a wide range of mining, marine and industrial machinery including mobile generators, pumps, welding machines, continuous miners, shuttle cars, tunnel borers, and transformers.
According to Powermite Marketing Director, Donovan Marks, quality and reliability are prerequisite for extending the lifecycle of products operating in the notoriously stringent mining environment. "Increased product lifecycle goes hand in hand with optimised uptime and productivity so quality therefore takes centre stage when it comes to our range of electrical products and components."
Powermite's ISO9001:2008 compliant electrical products are manufactured locally by sister companies Proof Engineering and Ampco under one roof in a new state-of-the-art manufacturing facility on Johannesburg's West Rand. Both companies carry SABS approval to IEC60079 Part 1 and 2, and SANS 1489 – 2005, and to 60309 Part 1 and 2 respectively. 
"Pooling the talents and resources across both businesses has created the largest plug and socket manufacturer under one roof in Africa," states Marks. "In addition to lowering our cost base, combining the strengths and synergies of the two companies has improved efficiencies across the board and has resulted in more streamlined processes and logistics. Marks adds that local manufacture ensures rapid product and spares availability, another vital element to maximising production levels. "Adding value to our local manufacturing capabilities is in line with our customer-centric approach and we are able to pass all these benefits on to our customers and end-users to assist them with optimal plant availability and production."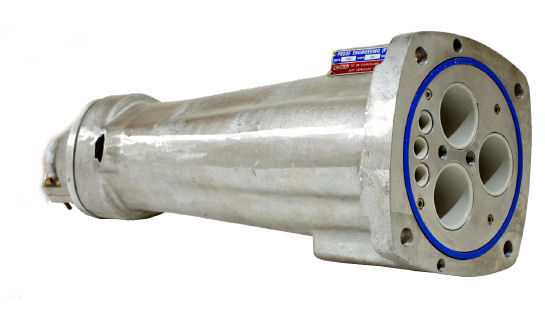 Proof Engineering is a flame- and explosion-proof product specialist with over 45 years' experience in the manufacture of world class components, equipment and systems for Southern African industry. The company produces PLM366 and PLM415/515 plugs and sockets as well as an 11KV 800A tunnel coupler and adaptor for open cast applications, 22kV 400A couplers for draglines and more recent additions include a new 35kV 400A coupler and adaptor for overhead line skids. An extensive series of plugs, sockets, couplers and adaptors, ranging from 120A 1.1kV to 400A 12kV, is also available from Proof for underground equipment. Proof Engineering's unique phase-to-phase segregation eliminates the risk of phase-to phase-faults which can cause costly downtime and lead to serious injury to personnel. 
Another innovation from Proof Engineering is the unique ProAlloy coupler. Manufactured from a non-theft zinc, copper and aluminium combination material, the coupler a remarkable 33% lighter than its brass counterpart and most importantly, holds no resale value. "The subsequent reduction in theft risk lowers the potential for unplanned downtime and subsequent production losses," explains Marks. 
Available from the Ampco stable are plugs and sockets suitable for certain underground operations. The company also manufactures a range of products that focusses primarily on industrial applications and is ideally suited for mobile generators, pumps, welding machines, factory installations, etc. The Ampco range features a unique interlocking design which prevents the end user from removing the plug under load. The application of LM 6 reduces the possibility of corrosion and extends product lifecycle.